How we honoured R U OK? Day this year
We're proud to support R U OK? Day, which is why we always host an event every year to mark this important occasion and spread awareness.
R U OK? Day encourages us to check-in on friends, family, and colleagues and ask that all-important question, 'Are you okay?'
We wanted to help our community get in on the spirit of the day and start some meaningful conversations, so on Thursday 12 September, we hosted a pop-up event at Arbor Cafe.
We had a fabulous line up of activities to help take care of your physical and mental wellbeing, as well as your social health. If you missed it, or simply want to re-live it, check out the highlights below.
We started off with an R U OK? Day-themed floral photo wall set up, and lots of people could be seen happily posing for selfies and taking group photos with their colleagues – it was lovely to see.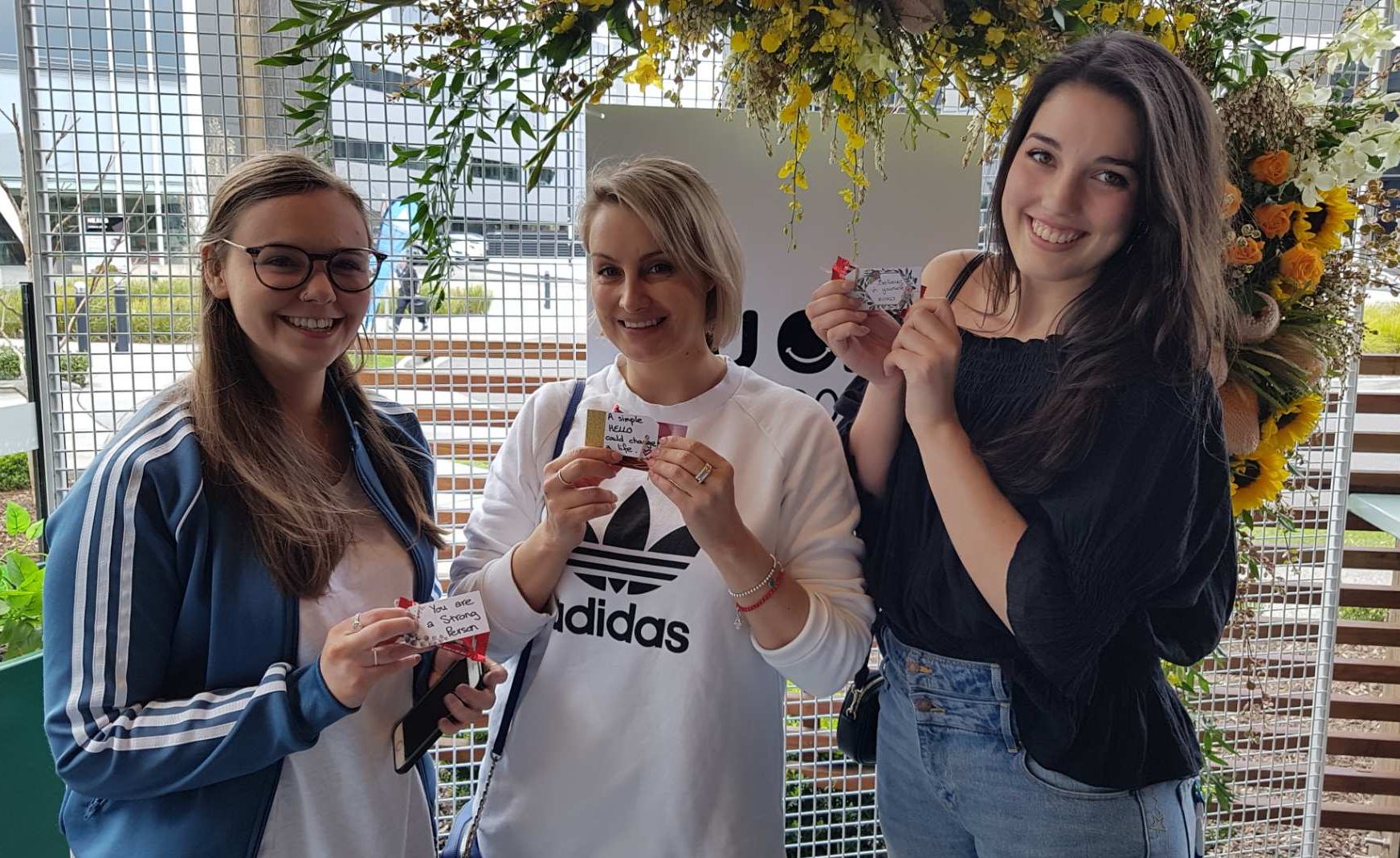 We also had an R U OK? Day lucky dip, where everyone scored a free mini-KitKat with an inspirational message attached. The little notes were all lovingly handwritten by your Community Manager and we hoped it helped to brighten up your day.
The main drawcard of the day was our complimentary 10-minute seated massages. We had the team from Hills Physiotherapy on hand with Meg, Sandra, Samantha and Alysia, all ready to massage us into a state of bliss and melt away the stress of the day with their magic hands. The ladies were busy with back-to-back massages. Safe to say that our community members felt very relaxed.
Arbor Cafe came through with the goods once again, offering a special lunch deal of a burger, chips and a can of soft drink for only $10. It was obviously popular, as the deal didn't last long and completely sold out!
Last but not least was our Thursday Pilates class with Jule, which was happening simultaneously. We took the opportunity for a group photo to help create that community spirit and act as a reminder of what the day is all about. Check out our happy, smiling community promoting the R U OK? Day message.
With a cute photo wall, free KitKats, complimentary massages, a great value lunch deal, and a free Pilates class, we were truly spoilt for choice with an abundance of cool stuff in just one day! We had something for everyone and we hope you enjoyed the day as much as we did.